Register with:
---
or register with your emailaddress
Cargo Data Package mod for Eurotruck Simulator 2
0 Downloads today
3,596 Downloads total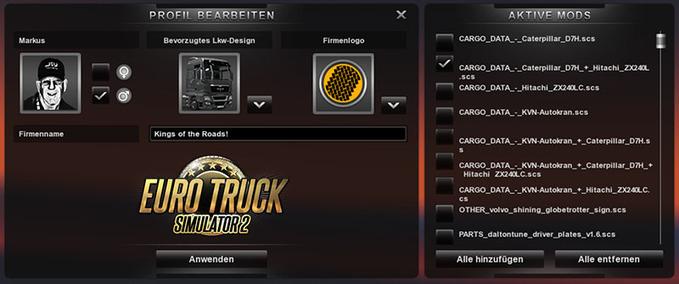 Cargo Data Package v 1.3.1
Compatible with version 1.3.X!
This is a package of freight data for the following trailer
Heavy Duty Trailer and Hitachi ZX240LC Caterpillar D7H (both from me Daltontune)
Heavy Duty Trailer KVN crane (of Hunter Road and Street Surfer)
Beer Trailer (Kamaz Riggo and Street Surfer)
There are data for each combination of these trailers contain please involve only one of these packages in ETS2.
Please do not forget to thank!
This mod is open source, but please notify me before you upload them to other servers. Only through open source mods can be a good game as Euro Truck Simulator 2 make the perfect ingredient. Since its my opinion, then please also works open source.
Daltontune,
Roadhunter,
Streetsurfer,
Do you think this mod should be featured?
NaN%
Empfehlungsrate:
noch nicht genug Stimmen
Comments for Cargo Data Package