Complete Winter Mod
V 3.1.1 mod for Eurotruck Simulator 2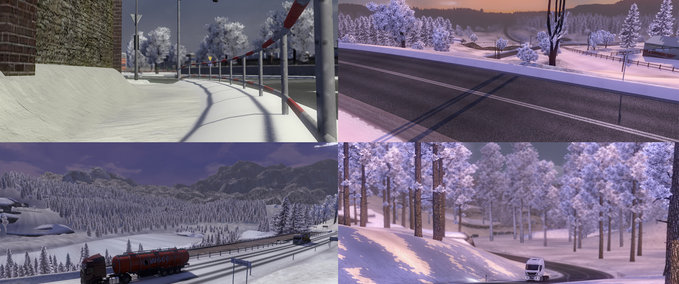 description
featured
#### INSTALLATION INSTRUCTIONS ####
After download and extract mod, you will see 3 files .scs, a brief description of each:
Complete Winter Mod v2.0 [BASE] - The basic part of the mod. Necessary for the proper functioning
Complete Winter Mod v2.0 [ADDON] more snow on asphalt - part of the mod Which adds more texture of the snow-covered asphalt, adding a snowplow, snowed wheels, etc. Do not change over driving physics, the car will behave like a normal asphalt.
Complete Winter Mod v2.0 [ADDON] Extreme - change the driving physics in the game, it is very slippery, slow motion AI.
CWM_HDR_FIX - if you use HDR, and snow is too bright, use this file.
__________________________________________________________
Changes in v2.0
- Adapted mod v1.14 patch under
- Changes in the times of day and weather
- I added drifts along walls, railings and fences
- I fixed snowy texture wheels
- I added the missing texture snowy forests and mountains
- I fixed definitions of AI cars and slows them
- I chenged loading screens
__________________________________________________________
Changes in v1.1
- Snowed mine
- Improved plow (a few changes to the model and definitions)
- Added icicles on high voltage lines and the signaling devices
- I changed the brightness of headlights of the truck
- Added the missing texture maps of snow for TSM and Scandinavia map
- Economics modified (extended delivery time)
- Improved texture trees
- Animation removed from the balloon and a madman, with jackhammer
- I changed the physics of driving (swing cab and extended braking distance)
I added EXTREME versions, and it changed:
- All the roads are slippery
- Changed the texture of asphalt, the occurs most frequently Which
- Changed even more driving physics (extended stopping distances and higher asphalt slippery conditions)
__________________________________________________________
What mod changes?
- New asphalt, roads, terrain, water and vegetation texture
- Added Christmas decorations, lights, Christmas trees, etc.
- Snowed some buildings
- Snow drifts, snowmen instead of combine harvesters and tractors
- Snowplow added in AI traffic
- Dirty AI cars, trucks, trailers, snowed wheels
- Dirty road signs
- Snow on the windshield trucks
- New sounds of rain
- I added orange street lights
- Horizontal markings have been removed
- Remove straw cows, bales of, harvesters etc.
changes
19 Dec 20:07

Version 3.1.1

!!! You need v3.1 for this patch !!!

Changes in v3.1.1
- Improved mod for Italy DLC
- Fixed snowplow
- Fixed missing .mat files
- Added more winter climate

29 Nov 17:44

Version 3.1

Changes in v3.1
- Improved mod for 1.30 patch
- Fixed errors and warnings

15 Jan 16:14

Version 3.0.2

Changes in v3.0.2
- Improved mod for Vive la France! DLC
- Slowly AI cars
- Fixed errors and warnings
Mod tested and working on v1.26.3.2
You can delete previous patch (CWM_3.0.1).

26 Nov 15:00

Version 3.0.1

Changes in v3.0.1
- Improved mod for 1.26.0.8 patch
- Added missing files from v2.5.1
- Fixed errors and warnings
- Fixed texture of DAF XF
- Small changes in extreme version

23 Nov 10:17

Version 3.0

Changes in v3.0
- Improved mod for 1.26 patch
- I changed the hours of sunrise and sunset
- Added missed snow texture in France
- I Improved extreme version
- More new snow texture
- Fixed errors and warnings

01 Jan 11:29

Version 2.5.2

Changes in v2.5.2
- Fixed red traffic signals in Netherland
- Fixed Mercedes MP III logo
- AI cars driving with low beam lights
- I added more snowed signs
- Small changes in textures

You can delete now previous patch if you used.

05 Dec 09:50

Version 2.5.1

Its patch to my winter mod. Tested and working on v1.21 and 1.22.
Changes:
- Fixed all red texture errors
- Changed air temperature
- Deleted all agriculture stuff from Poland Rebuilding

21 Nov 22:12

Version 2.5

My next version of winter mod. Mod added many things from real winter like snow bars, snowed road, vegetation and small things like christmas tree, christmas lights, snowmans, snow plows. Just all what you need in winter mod. Mod is splitted to few parts so all can find perfect version to use (more in readme files). Mod will be works with all maps and DLC. Tested and working in v1.21

Changes in v2.5
- Improved mod for 1.21 patch
- Few new snow textures
- Improved mod for SC DLC
- Added snow and other winter details on many buildings
- Changes in weather and day time
- X-mas atmosphere on DLC SC (Trelleborg, Malmo, Kobenhavn, Helsingborg)
- Improved mod for maps Pro Mods, Poland Rebuilding, RusMap i TSM Map.

05 Jan 11:37

Version 2.2

Mod tested and working on v1.15
Changes in v2.2
- Improved mod for 1.15 patch
- Delete sun at night
- New sky look at 15-16 hours
- Increases engine power in extreme version, now should be bit faster (only SCS trucks)
- Few small fixes
Files
Do you think this mod should be featured?
}