EAA V5.1.2 + PROMODS 2.41 FIX V0.15 1.35.X
V fix 0.15 mod for Eurotruck Simulator 2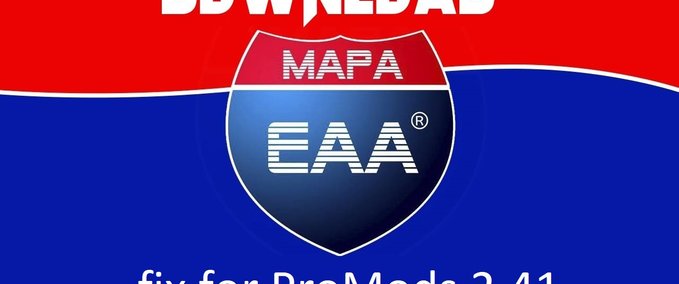 description
It's a fix for EAA 5.1.2 and Promods 2.41. Only for 1.35 game version!
If you found something to improve, let me know!
Changelog:
0.15
- Old fix has been updated and everything is in one package now
0.1
- Fixed problems with semaphores on roadwork_small_sc_01 prefab
- Replaced some old vegetation models
Load order:
-TOP-
Arayas SuperZoomPM[1.35]
EAA 5.1.2 + Promods 2.41 fix
Promods Def
Promods Map
Promods Models 1
Promods Models 2
Promods Models 3
Promods Media
Promods Assets
Mapa EAA 5.1.2
Base Mapa EAA 5.1.2
-BOTTOM-
EAA MAP DOWNLOAD FILES:
https://sharemods.com/vhfwp522wcza/MAPA_EAA_5_1.rar.html
https://sharemods.com/hgacb65gjjje/MAPA_EAA_5_1_BASE_MF_4059e.rar.html
Credits
Modell: Amar, 3xtremor_PL
Textur: Amar, 3xtremor_PL
Script: Amar, 3xtremor_PL
Idee / Konzept: Amar, 3xtremor_PL
Tester: Amar, 3xtremor_PL
Sonstige: Amar, 3xtremor_PL
changes
11 Jul 00:20

Version fix 0.15
Files
Empfehlungsrate
-/-
noch nicht genug Stimmen
Do you think this mod should be featured?
}