Egypt Addon for Promods
V 1.0 mod for Eurotruck Simulator 2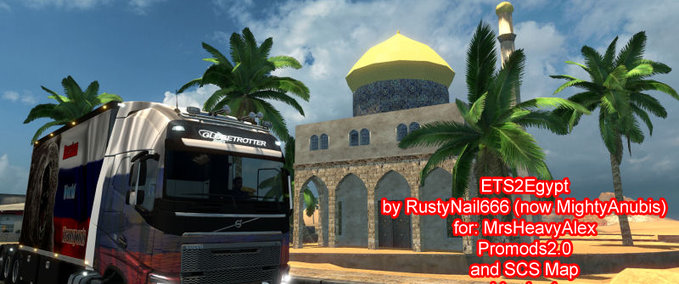 description
Addon  "Cairo / Egypt" map.
Modder:
RustyNail666 ( new Name: MightyAnubis )
Game: Euro Truck Simulator 2
Version: 1.22

compatible to:
scs Map
Promods 2.0
and other, not tested jet.
Credits:
Thanks to: Steinmetz Omi,for help with Zmodeler + Trailern
Ex Deejay, for start in the Defs and some little Fixes later
Graywolf (TSM) for the Trailer Skins.
THIS IS NOT A KOPIE! THIS IS A LEGAL HOST! I am the Owner of this Art!


Allen anderen: VIEL FREUDE MIT DEM MOD!

DO NOT REUPLOAD THIS LINK!
KEEP THE LINK! Reupload is forbidden.

ShortView:
Towns:
Cairo
Al Wasta
Samalut
Al Fayyum (Oase)

11 new Companys
30 Cargos
2 Trailer, 4x heavy Load (mummy, Horos, Chests and other.)
For any Questions or Bugfixes, visit:
ets2egypt.de
1. - Egypt map
2. - Promods Fix
3. - All other Maps

last = Zoom Fix.
Credits
MightyAnubis RustyNail666 Steinmetz Omi a little Ex Deejay
Files
Empfehlungsrate
-/-
noch nicht genug Stimmen
Do you think this mod should be featured?
Unterstütze den Entwickler!
Jetzt mit PayPal spenden
}