Just Play mod for the TSM Map
V 6.6 mod for Eurotruck Simulator 2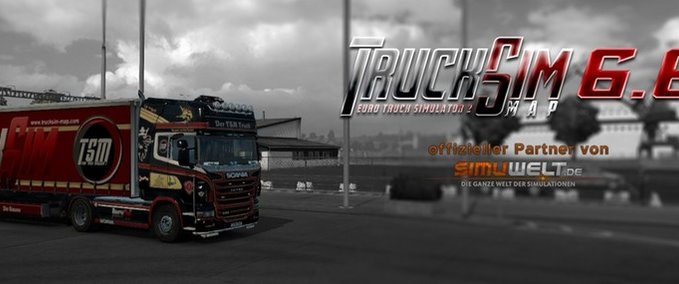 description
featured
JustPlayMod for TSM 6.6.x

This mod is compatible with patch 1.27.x 
It containsreal company-names
all trailers with skins of original brands
Truckshop- Dozens of additional accessories, motors, and gearboxes for all trucks
all parts are accessible from start of the game
improved traffic
increased traffic
some cars have topspeed above 200 km/h for german highways
improved in-cabin sound
AI better hearable
reduced airnoise
Scania V8 engines slightly louder
changes in economy
bank loan up to 500.000 € with longer durations
changes in police-fines- and lots of minor changes to give you more pleasure with this game
Changes to previous version: adapted to patch 1.26.x

Have Fun!


Licence: 


It is only allowed to supply this mod via the given downloadlinks!
It is absolutely forbidden to host this mod on any other filehosters.
It is allowed to distribute the Original Link in public.

changes
21 Jul 15:23

Version 6.6

Anpassung an Patch 1.27.x

24 Jan 01:44

Version 6.5

- Update zu Patch 1.26

17 Aug 15:15

Version 6.3

an Patch 1.24.x angepasst

09 Oct 00:31

Version TSM 6.x

Änderungen zur Vorgängerversion:

- an Patch 1.21.x angepasst

17 Nov 00:21

Version 5.3

- extra Motoren für den neuen DAF Euro 6
- Anpassung an den Patch 1.14

12 Oct 04:11

Version 5.2

JustPlayMod für TSM 5.2 und Patch 1.13.x

09 Aug 17:06

Version 5.1

Dieser Mod ist kompatibel mit Patch 1.11.x und enthält

- reale Firmennamen
- alle Trailer mit Skins realer Firmen
- Mercedes-Truck mit richtigem Namen und Stern

Anbauteile-Shop
- Dutzende zusätzlicher Anbauteile, Motoren, Getrieben etc. für alle Trucks
- alle Teile von Beginn an freigeschaltet

verbesserten Traffic
- zusätzliche Trucks im Traffic (3-Achser)
- einige Fahrzeuge fahren mit über 200 km/h über Deutschlands Autobahnen
- KI-Licht etwas heller
- erhöhtes Verkehrsaufkommen

Änderungen im Wirtschaftsmodell
- Bankkredit bis zu 500.000 € mit verlängerten Laufzeiten
- veränderte Strafen

und viele weitere kleine Änderungen für ein rundes Spielvergnügen
Files

Do you think this mod should be featured?
Unterstütze den Entwickler!
Jetzt mit PayPal spenden
}