Map of Hungary [1.35.x]
V 0.9.28a update für 1.35 mod for Eurotruck Simulator 2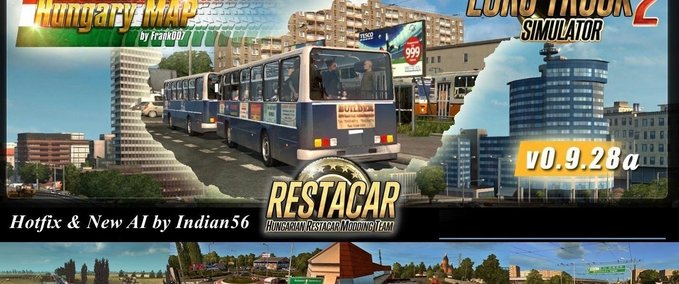 description
New Update for Hungary Map 0928a by Indian56 for Ets2 1.35.x game version 
The package contains the complete Hungary Map, adapted to version 1.35 of ETS 2!
Install help:
Unzipping the .7z file will result in 3 .scs files, which will be copied to the "mod" 
folder and then activated in the "Mod manager" of profile.
After reducing the 4 files used so far to 3 files (hungary_base.scs, hungary_model.scs 
and hungary_def.scs), only these are needed, all can be deleted!
Attention!
Unfortunately, I have not managed to fix all the "freaks" caused by the new developments 
on the map, so you can get in touch with a police officer or worker working on the road, 
but they do not have a collision surface, you can safely go over them! 
Under DX11 is currently not working !!!
Credits
Modell: Frank007, indian56
Textur: Frank007, indian56
Script: Frank007, indian56
Idee / Konzept: Frank007, indian56
Tester: Frank007, indian56
Sonstige: Frank007, indian56
changes
12 Jun 00:02

Version 0.9.28a update für 1.35
images
Files
Empfehlungsrate
-/-
noch nicht genug Stimmen
Do you think this mod should be featured?
V 0.9.28a update für 1.35
}