Multi Traffic light mod
V 1.0 by HarryTuttle mod for Eurotruck Simulator 2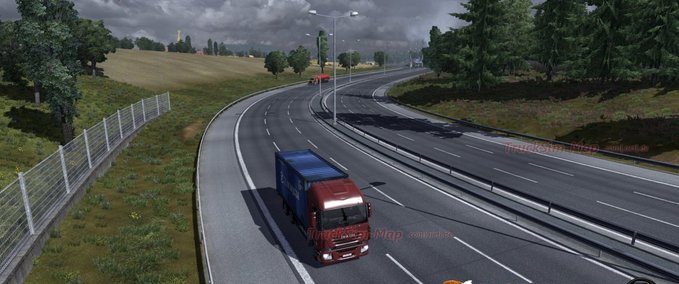 description
Beschreibung
Dieser Mod ist eine abgespeckte Version von Kilroys Mod und soll allen helfen, denen das Spiel aufgrund mangelnder Rechnerressourcen abstürzte.
Daher wurde der Performance-freundliche original SCS-Verkehr wieder integriert und alle Definitionen und Modellbeschreibungen, die schon in den TSM-Mods enthalten sind, entfernt.

**************************************************************************************************************************************

WICHTIG: DIESER MOD IST NUR IN VERBINDUNG MIT DEM AKTUELLEN JPM-MOD ZU VERWENDEN !

**************************************************************************************************************************************


Die enthaltenen Mods sind nicht verändert.


zusammengefügte Mods und Fahrzeuge :

- ETS2-141-Realistic-AI-Traffic-Mod-ver-2-by-Scanreg
- vehicle_TDU
- unbeladene Trailer im Traffic
- 2 BDF und ein AmericanTruck im Traffic
- einige russische Trucks
- C- Klasse Polizei
- Sprinter Ambulanz
- Ducato Polizei
- Sprinter UPS,TNT,DHL,SDA,BRT
- Sprinter lang
- Licht der Fahrzeuge verändert ( Heller)
- Traffic an die Länder angepasst


Es sollten keine zusätzlichen Traffic-Mods aktiviert werden, weil dieser Mod die maximale Zahl an AI-Fahrzeugen bereits ausschöpft !!


Credits :
kilroy, mAn-TrUcKeR/TSM-Team, Scanreg, Corni, Jazzycat,
valera_t, AlligatorSE, Scanreg, Georgegold CZ,Jennenz,
SCS,Sinclair,nkuh,Atak_Snajpera,Srele,EoF,tacsi68,
Uallace Moreira,apferreira truckman u.a.


-----Es ist verboten diesen MOD kommerziell zu nutzen.-----


viel Spaß

HarryTuttle

Support leisten wir ausschließlich nur noch mit Angabe der Logdatei!
Support only with the Logfile!

Spenden:

Wir machen unsere Arbeit aus Spaß an der Sache und werden sie auch
weiterhin offen halten. Da wir aber öfters auf Spenden angesprochen
wurden dies ist hier möglich hier möglich


Lizenz:




Trucksim MODS von Trucksim Map steht unter einer Creative Commons
Namensnennung-NichtKommerziell-KeineBearbeitung 3.0 Unported Lizenz.
Beruht auf einem Inhalt unter Download only the original link from TSM (uploaded.net).
Über diese Lizenz hinausgehende Erlaubnisse können Sie unter Fehlermeldung - TruckSim - Map Team erhalten


Dieser Mod darf nur über die angebotenen Downloadlinks geladen werden!
Der Mod darf nicht auf anderen Filehostern angeboten werden!


It is only allowed to supply this mod via the given downloadlinks!
It is absolutely forbidden to host this mod on any other filehosters.
Credits
kilroy, mAn-TrUcKeR/TSM-Team, Scanreg, Corni, Jazzycat,
valera_t, AlligatorSE, Scanreg, Georgegold CZ,Jennenz,
SCS,Sinclair,nkuh,Atak_Snajpera,Srele,EoF,tacsi68,
Uallace Moreira,apferreira truckman u.a.
changes
11 Oct 21:59

Version 1.0 by HarryTuttle
images
Files

Empfehlungsrate
-/-
noch nicht genug Stimmen
Do you think this mod should be featured?
}