Fast levels
V 1.6 mod for Eurotruck Simulator 2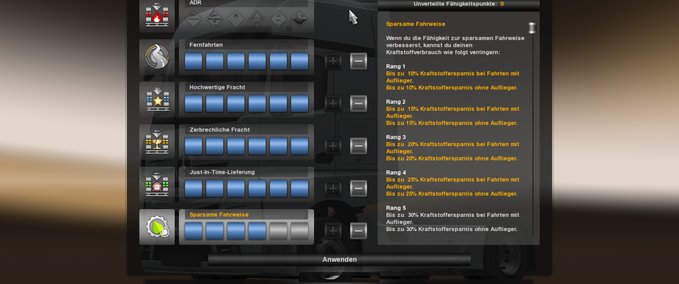 description
This mod make others that they can quickly "VERY" levels :)
A cargo deliver einparken with bringing thousands of experience points (ie: you since after a few loads already on Level 600 or more :)
But the prices are adjusted a bit.
-not penalty at beschätigter freight
Garage leasing costs just € 1 also enhance the garages
-Fahrer Get just € 1 reward: D
-The Garages have a higher income
.... And much more
Credits
Modell: 
Textur: 
Script: Tobias Titius
Idee / Konzept: Tobias Titius
Tester: Tobias Titius / Marvin Titius / Fabian Mayer / Lena Becker / Fabian Schmitz / Joshuar Pfadenhauer
Sonstige: 
changes
11 Apr 14:43

Version 1.6

+Version 1.6.0 - (NEU) -
-ALLE Fehler behoben. Kein Bankrott mehr durch fahrer!!!!!!!
-Für den Aktuellen Patch obtimiert.
-KEINE FEHLER MEHR!!!!!!!

14 Feb 16:06

Version 1.5.2

+Version 1.5.2 - (Neu) -

-An der Mod wurde nichts geändert aber es wurde eine neue hinzugefüg
(Die Mod [Schneller_Leveln1.5] ist standart und funktioniert, mit wenigen Frachten ist man locker Level 30 und hat genug geld um sich paar LKW´s zu kaufen.)
(Die Mod [Schneller_Leveln1.5_langsammer] funktioniert genauso nur dass man langsammer sein Level aufsteigt (für die denen der vorherige Mod zu übertrieben war) Geld bekommt man nur wenig (immernoch mehr als ohne mod)

ES IST UNBEDINGT ZU EMPFEHLEN DIE STANDART MOD NACH 2 - 3 FRACHTEN WIEDER ZU ENTFERNEN DA MAN DANN SOWIESO GENUG LEVEL UND GELD HAT UND ES SONST ZU FEHLERN KOMMEN KANN /// BEI 2 oder 3 FRACHTEN KANN ABER NICHTS PASSIEREN

13 Feb 15:47

Version 1.5

+Version 1.5: - (Neu) -
-Es wurden alle Fehler behoben und AUSGIEBIG getestet!!! (Die Einnahmen der Mitarbeiter wahren so extrem hoch dass sie in den Minusberreich gekomnmen sind, dies ist nun nicht mehr der Fall
alles wurde in einem Rahmen gebracht welcher nicht mehr in den - Bereich führen kann!)
-Die letzten Versionen waren extrem übertrieben. Die neue Version [1.5] wurde nun angepasst dass alles seine Ordnung hat.
-Mod angepasst auf Spielversion 1.26 und alles darunter

05 Jun 13:07

Version 1.4.1

-Fehler behoben (Die Preise pro Km waren zu hoch, es konnte also sein dass man kein Geld bekommen hat sondern abgezogen bekommen hat. Das ist nun nicht mehr der Fall.
-Lkw Rückerstattung erhöht (Beim verkauf vom Lkw bekommt man mehr geld zurück)

04 Jun 22:14

Version 1.3

-Fehler behoben (Spiel stürzt nun auf keinen Fall mehr ab)
-Das Leveln wurde niedriger gestellt da es zu extrem war.

27 May 19:51

Version 1.2

Veränderungen:
-der Treipstoff der Firmen Tankstelle kostet nur noch 1€
-Fahrer Einnahmen erhöht aufs Maximum
-Fahrer Mietkosten gesenkt
-Maximal Cargo Schaden niedriger
-Fahrer fahren nicht mehr ohne Fracht
-Max. Zeitüberschreidung bei verspätung erhöht (Keine Versüätungen mehr Möglich/ Man kommt IMMER rechtzeitig an)
-Einnahmen pro KM erhöht
-Feste Einnahmen erhöht
-Strafzahlung bei abbrechen des Auftrages auf 0€

23 May 16:48

Version 1.0
Files
Do you think this mod should be featured?
}