TruckSim Map
V 6.6.2 mod for Eurotruck Simulator 2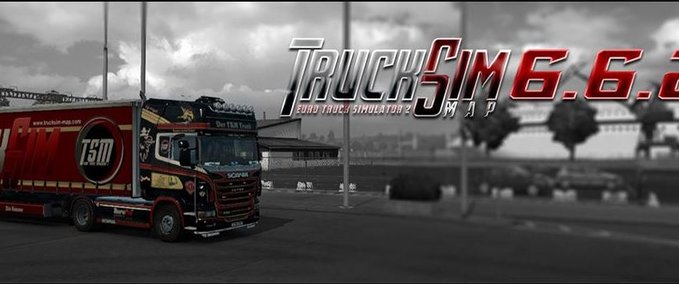 description
featured
TruckSim Map 6.6.2 for patch 1.30.x

!Attention! Who would like to continue using the TSM map need DLC East, Scandinavia, France and Italy!!!

- Changes for Version 6.6.2:
- Update to gamepatch version 1.30.x
- several bugfixes
- several new Things (find it out
- it's christmas! )

These Mapversion is for patch version 1.30.x.

These Mapversion can't be played with the patch version 1.28.X (or before)!

--------------------------------------------------------------------------------------------------------------------------------------

All Trucksim MODS from Trucksim Map Team are offered under Attribution-NonCommercial-NoDerivs 3.0 Unported Licence. If you require further permissions you must contact us under TruckSim - Map 

Is only allowed to supply this mod via the given downloadlinks! It is absolutely forbidden to host this mod on any other filehosters.

It is allowed to distribute the original links in public. In this way you support our Project TruckSimMap.

NonCommercial — You may not use the material for commercial purposes.

NoDerivatives — If you remix, transform, or build upon the material, you may not distribute themodified material.

No other Download Hoster - It is only allowed to publish this work with the given Downloadlinksprovided only by the TSM Team.

For Comments, Additions, Gratulations, Wishes and Suggestions you can always contact us via the forum under TruckSim - Map or sent us a mail toforum@trucksim-map.de.

Find us on facebook under facebook.com/TrucksimMapfacebook.com/TrucksimMap/?ref=aymt_homepage_panel
Credits
SCS Software für die GrundMap mit allem Drum und Dran.
50keda für die neuen Firmen Sellplan und Kaarfor.
FLD/TZ für die neuen Prefabs und Modelle (darf nicht zur freien Verwendung genutzt werden!)
kamaz für Schilder
Reislord für Schilder
valera_t für verschiedene Mapmodelle
satan19990 für die hervorragenden Mapmodelle
Königszapfen für die Bilder
2X2 für die neuen Autokennzeichen
mAn_Trucker für neue Firmen
diverbaer für die 'extreme bridge'
Carinthian für den Umbau in Frankfurt, Tripolis und Aalborg
Carribean Princess - Herminio Nieves
Sailboot - edson
Boat 1 - kheiro
Boxes 1 Palm some less items - Yughues
Oasispalms - Yughues
Plants and Staff - Nobiax
changes
25 Dec 16:04

Version 6.6.2

- Update to gamepatch version 1.30.x
- several bugfixes
- several new Things (find it out ;) )

29 Aug 16:24

Version 6.6.1

- Umbau der Autobahnen rund um Frankfurt am Main
- Anpassung auf Gamepatch Version 1.28.x
- diverse Bugfixes

19 Jun 11:14

Version 6.6

Rebuilding of Marokko
Adapted to Patch 1.27
All Bugs fixed

24 Jan 01:35

Version 6.5

- Anpassung auf Gamepatch Version 1.26.x
- diverse Bugfixes

10 Jun 19:37

Version 6.3

Änderungen in der Version 6.3 gegenüber der Vorgängerversion:
- Anpassung an den Patch 1.24
- Beseitigung von Bugs

19 Dec 19:26

Version 6.2

Änderungen in der Version 6.2 gegenüber der Vorgängerversion:
- Neubau von Kairo und weiterer Städte in Ägypten
- Verbindung zu den neuen Städten von SCS
- Verlängerung der A7
- TSM eigenes Frachtsystem für Ägypten

Changelog vom 16.12.2015:
- Beseitigung von Bugs
- Anpassung an den Patch 1.22

14 Oct 17:59

Version 6.1.1

- Fix zur 6.1, jetzt mit und ohne DLC Going East & North spielbar
- Problem d. Fähre b. Rostock gefixt

09 Oct 00:18

Version 6.1

TruckSim Map 6.1 für Patch 1.21.x (Stand: 08.10.2015)

- Anpassung an die neuen Patches
- Behebung der Bugs
- Behebung der Texturfehler
Files

Do you think this mod should be featured?
Unterstütze den Entwickler!
Jetzt mit PayPal spenden
}