TruckSim Map
V 4.1.0 mod for Eurotruck Simulator 2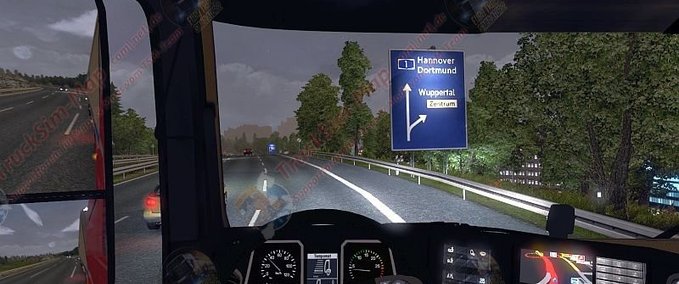 description
This map is playable version from version 1.5.2 !

Anyone who has been playing the last patch (Version 1.5.2 ) , should have no problems with the game .
Old map out , and the four new parts inside. The map should work with and without DLC .

But beware (!) : Before the games must initially edited the profile and the new mods
enabled ! Failing this , you land on the standard map in Nirvana .


Those who have had a garage in Gyor , this should sell before the benefits of the new map , as we
this place had to dissolve because of the DLC . O?sterreich in Darfur, there is a new place.

( The O?sterreicher Mogen us the location of St. polten forgive . , It had to be quick so that the release
may appear. Therefore had to be used a free space in the map. In a next version
The rest of us this . )


We've split the mod into four individual packages .

    TSM_Map_4_1_0_defs & mat.scs
    TSM_Map_4_1_0_map.scs
    TSM_Map_4_1_0_model.scs
    TSM_Map_4_1_0_prefab & more.scs

All four parts must be run in the mod folder !

Dividing the mods also has the advantage that maps released a fixed subsequently exchanged more easily
can be .

Who uses the Just Play Mod ( JPM ) , the new map should not use because it Abstu?rzen
will lead ! The new Just Play Mod ( JPM ) will appear in the next few days .

Credits: (and our thank you to )

    SCS Software for the GrundMap with all the trimmings .
    50keda for the new business plan and sell Kaarfor .
    FLD / TZ for the new prefabs and models ( may not be used for free use !)
    kamaz for signs
    Rice Lord for signs
    valera_t for different Mapmodelle
    Ko?nigszapfen for the pictures


Should not remain unmentioned Carinthian , the rebuilding in Frankfurt , Tripoli and Aalborg
has made.

If we now again have forgotten someone , so it looks after us. We are happy to bring this into
the next version after .

We wish all users a wrinkle- free travel .
Your TSM team

donations:

We do our work for the fun of the thing , and they are also
continue to keep it open . But since we often asked about donations
were . possible here

Support:

Support provides exclusively only with details of the log file

License:

TruckSim TruckSim Map of MODS is under a Creative Commons
Attribution -NonCommercial -NoDerivs 3.0 Unported License .
Based on a work at Download Only the original link from TSM ( uploaded.net ) .
Permissions beyond the scope of this license can be obtained under http://www.trucksim-map.com


This mod may only be charged on the offered download links !
The mod may not be offered to other file hosters !
Credits
SCS Software für die GrundMap mit allem Drum und Dran.
50keda für die neuen Firmen Sellplan und Kaarfor.
FLD/TZ für die neuen Prefabs und Modelle (darf nicht zur freien Verwendung genutzt werden!)
kamaz für Schilder
Reislord für Schilder
valera_t für verschiedene Mapmodelle
Königszapfen für die Bilder
changes
23 Sep 01:20

Version 4.1.0
Files

Do you think this mod should be featured?
}