TSM Trailer Pack Heavy Duty Pack 1 to 3
V 1.17 mod for Eurotruck Simulator 2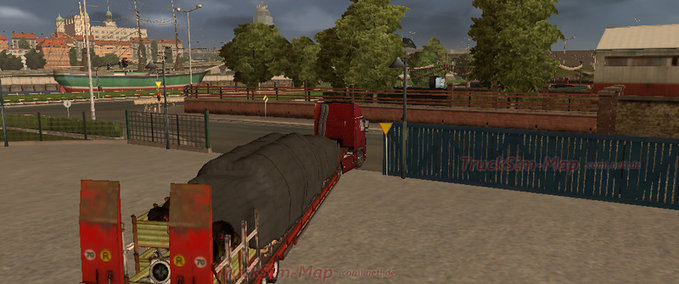 description
These Archiv includes alle 3 Packages from our Heavy Load Trailer 1-3 . They all are standalone Trailer. 


#############################################
Patch: 1.17.x 
#############################################

Changelog
---------
16.05.2015: an Patch 1.17 angepasst
23.12.2014: an Patch 1.15 angepasst
16.11.2014 an Patch 1.14 angepasst
19.08.2013 Frachtpreise gefixt 
18.08.2013 Rundumleuchten gefixt


Paket 1
Stahlring (Heavy)

Raupenbagger (Heavy)

Rohrteil Klein (Heavy)

WKA Segment (Heavy)

WKA Flügel (Heavy)

Stahlträger (Heavy)

Militär Fahrzeug (Heavy)

Yacht (Heavy)

Ramme (Heavy)

Panzer (Heavy)

Pack 2
Black Hawk

Ballenpresse

WKA Fundament

Kranteile

Baumaschine

Kontruktionsteile

Kessel Waggon

Bobcats Lift

Kastor Kessel

Groß Container


Pack 3
Strom - Generator

Bauschutt

Fertighaus

Metal Rohre

2 x Stahlfässer

Gerüstturm

Stahlfass + 20ft Container

Jet - Maschine

Laufband Säge

Kalmar - Lifter
Credits:
Trailer and Cargos by SCS
Convert and modification by mAn-TrUcKeR / Waggi74/ Trucksim - Team
Donations:
We make our work only for fun and let our Map open for everything.
But because we have always heard that some peaple want so spent some money to us: here you go.

Licence: 
Trucksim MODS from Trucksim Map are released with 
Attribution-NonCommercial-NoDerivs 3.0 Unported  Licence.
Download only with the original link from TSM (Linkcrypt).
If you need further permissions you can contact us.

It is only allowed to supply this mod via the given downloadlinks!
It is absolutely forbidden to host this mod on any other filehosters.
It is allowed to distribute the bitly.com Bundle in public.
Credits
mAn-TrUcKeR, Waggi74, TruckBäcker
changes
16 May 23:52

Version 1.17

16.05.2015: an Patch 1.17 angepasst

06 Feb 13:23

Version 1.15 (Patchversion)
Files

Do you think this mod should be featured?
Unterstütze den Entwickler!
Jetzt mit PayPal spenden
}